Banned
Posts: 167
Joined:

4 years ago
here's my best attempt, no customs, no suit, just plain as simple

hope you like it and probably chuckle

check out my DA page
http://doctorwhovian1963.deviantart.com/

you can also check me out on fanfiction here
https://www.fanfiction.net/~doctorwhovian63
---
---
Kokoro Robot
Posts: 31
Joined:

4 years ago

Location: The Fire Nation
It's been a while since my last drawing. I finished this one early today.
---
---
So it's been a while since the last post here, and the link to the instructions doesn't seem to work anymore, but this kind of reminded me of manually trying to figure out the shapes and proportions used in the 2003 series, since it'd be kinda nice to be able to draw fan art in that style (and some of the minor differences between that one and the earlier ones made it a little more similar to my own art style). Since I took a picture of the drawing of Astro I drew to test the style and did a colored vector tracing of it a couple months ago, I thought I'd post them here:
Paper:
click for spoiler
Vector:
click for spoiler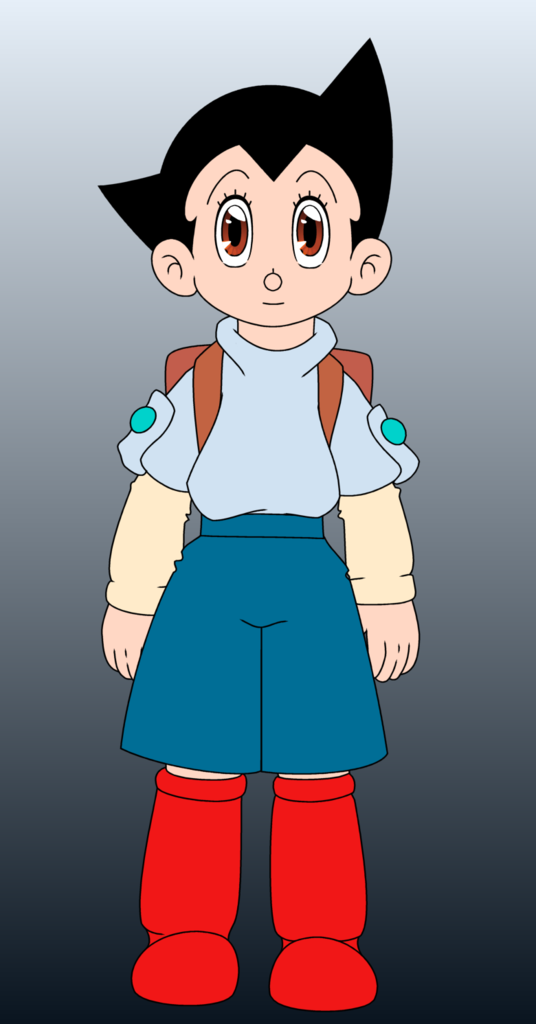 ...looks like I forgot the buckles on the backpack...

Last edited by
Kitty Lue
on Tue Dec 06, 2016 12:54 am, edited 1 time in total.
---
---
---
---
Robot Revolutionary
Posts: 4284
Joined:

17 years ago

Location: USA
I've drawn Astro a lot. Here's my newest sketch
Attachments

Astro pose resize.jpg (157 Bytes) Viewed 1268 times
---
"Rejoyce" wrote:These look great! What did you use to make the vector?
Thanks! I used Jasc Paint Shop Pro 7 for the vector. I used the freehand vector tool to do a rough tracing of the paper picture with my mouse, and because it's a vector I'm able to edit the nodes of the freehand shape I drew to match it up better with the drawing, and afterwords even fix some of the proportional errors that are present in the paper version.
Despite being 90's software (Corel bought it from Jasc a while ago), PSP7 continues to be quite a sophisticated program for both raster and vector graphics. It has almost all of the features that you'd find in current versions of both Photoshop and Illustrator combined.

"Dragonrider1227" wrote:I've drawn Astro a lot. Here's my newest sketch
I like Astro's expression and pose, he's looking happy and maybe a bit shy, it adds that extra bit of interest to the picture.

---
---
Who is online
Users browsing this forum: No registered users and 1 guest