That is a real shame.

His backside/ derriere/ rump/ fanny [U.S. slang]/ behind/ seat of his pants/ posterior/ seat of correction (where the paddle turns the skin red) guns were part of what made him so cute. Who else but a little kid would have a weapon in such an undignified place as that?

A nine year old with the short round proportions of a toddler, a waistband that was nearly up to his under arms, and huge (tall and innocent) eyes, big round face, tiny nose and mouth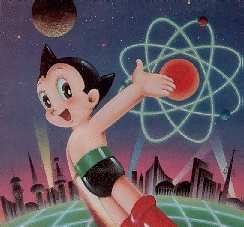 was not cute enough for Osama, so he put a dual fifty caliber machine gun in his bottom/ rear-end/ sitting place, as icing on the 'cuteness' cake.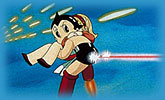 Although his fights were serious, every time he opened up with his machine guns, I found myself snickering.

It was just plain silly, in the same way as little kids' store-bought Halloween costumes. Who else but a very young person would wear something so dumb? A one-piece costume with an action scene on the tummy, a vertical opening in the back like Denis the Menace' rear-entry blanket sleeper, and a cute mask. As silly as these costumes were, the kids wearing them would begin to act out the personalities of the characters, thinking themselves as being those characters. So, Astro Boy had a weapon in the most undignified place possible. Notice that the adult form of Atlas did not retain his own tail/ back side/ tush mounted machine guns.